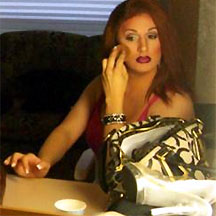 The following links are to transvestite dressing and escorting services¹ who provide make-up, make-overs, photography and escorted nights-out for trannies. Unless specifically stated on the site concerned, these organisations do not provide sexual services of any kind and will not be impressed if you ask! These kinds of services don't come cheap, but if you want to look your best, especially for that all important first time out of the closet, they are generally more cost effective than you think.

For those who don't know what the terms 'dressing service' or 'escort' mean in a tranny context:
Dressing Services are individuals or companies who provide services which aim to help you with your transformation into a woman, whether this is a complete make-over including clothes, shoes and so on, or just additional help with make-up. They are especially helpful if you are a nervous first-timer or novice as they can provide the advice and confidence you need in order to find your first steps on the t*girl ladder. Dressing is actually a shortened term for 'cross-dressing', rather than being short for 'dressing up'. As far as we know there are no 'undressing services', though we're sure there are plenty of people willing to do this bit for free!
Escorting in this context is nothing to do with the usual understanding of 'escorts' a.k.a. people you pay to visit their boudoir (or them visit you)! In the dressing service world it refers to someone (usually another t*girl) who will take you on a tranny night-out, show you the ropes and the venues and generally help you overcome those nerves.